Tour Van Hire Nairobi
August 27, 2019
Views: 3899
Description
Price : Price On Call
Date : August 27, 2019
Mileage : 3600 km
Condition : New
Type : Chauffeured
Warranty : No
Year : 2014
Body Type : Bus/Van/Minivan
Transmission : Automatic
Engine Size : 3500 cc
Engine Type : Diesel
Assembly : Imported
Color : Blue
Insurance : Yes
We offer the most reliable and budget-friendly tour vans for hire in Kenya. We have a range of safari vehicles with a driver ready to make your traveling experience comfortable and exciting. With hundreds of tourist attractions, local destinations, and accessible recreational activities, you need are a liable partner for maximum pleasure. Our fleet is well maintained, clean, and of low-mileage.
The tour vans drivers are all qualified and friendly ready to offer you the top-notch professional service. Those looking to hire the tour van for the long term, we always have a massive discount. We also offer hotel and airport transfers 24 hours a day. As stated earlier, they are built to provide luxury; hence they offer enough legroom and a big space at the back to carry luggage.
The Safari Van For Hire 
This is a micro bus that is designed to offer maximum experience in a less costly compared to other means of transport. The safari van is customized in a way that there is a hatch roof where one can stand to view animals/surrounding areas, offering a 360% view area. The rooftop area pops up when required, remains closed when not in use, ,for example, when within the city or in bad weather.
The safari vans are most popular in Kenya. They allowed entering all national reserves and National parks. These vans are 4by4, offering a hustle free experience even on the rough road, which is a common feature in most of these parks. With this kind of feature, the tour vans have dominated most of the scenes in Kenya; these are hotel transfers and safari tours in the parks and reserves.
Seating Arrangement for a Safari Van.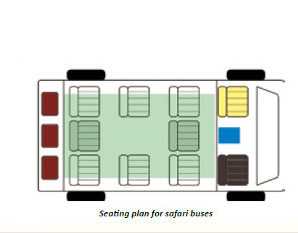 The tour van capacity is 8 people, excluding the driver. With this kind of arrangement, seven people have access to the window. The person sitting with the driver has no access to the roof hatch. There is a large luggage compartment at the back of the van. If traveling light, it can fit everybody's bag, but there is always an extra room on the side of the van for excess luggage.
With your shoulder and head out through the open hatch, you are in the best position to view animals and take pictures. The photographs will leave a long memory of your trip many days after you are done with the tour.
+254710884973 or email us at support@findhire.co.ke.